So, my Panasonic television went out two days ago.  It all started when my son hit the front of the TV with a toy mallet, just above the power button.  Since then, the TV has flickered intermittantly, and occasionally the picture would go out.  To fix it, I would repeatedly hit the front of the TV again until the picture came back.
Recently, the picture went out, and no amount of banging on the TV would bring the picture back.  So, I opened it up, removed the circuit board from the TV, but kept it hooked up.  I put a mirror in front of the TV so I could see the picture, as I was behind the TV.  My plan was to wiggle the components until I found the loose connection.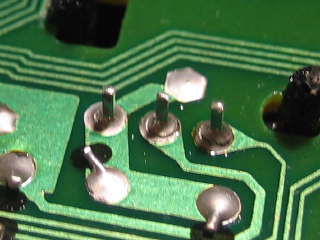 As it turned out, any movement of the circuit board affected the picture.  So, I figured it was a bad solder joint.  I flipped over the board, and to my dismay, there were at least 15 very bad solder joints.  They were so bad that I was really surprised that it left the factory in that state.  It was a problem just waiting to happen.
I added some new solder and redid all of the visually bad solder joints.  Some of them were so fried, I wondered if it would do any good.  I wondered if the connections and traces on the board were still in tact.
I was happy that when I was done, I could tap the circuit board and the picture did not flicker at all.
I know that they probably figure the average TV owner isn't ever going to see the circuit board, so as long as it passes the factory tests, it's ready to go.  However, it's really a testment to my good care of the television that it survived two moves and many years of use before my son came a long with a toy mallet and put it out of commission.
I could never sell a circuit board like that as new.  I'm disappointed in Panasonic's quality control.
We really should be given the opportunity to inspect the circuit boards of major electronic components before we make a purchase.  In this case, it would be like choosing to buy a Pinto with a busted rear bumper, which I would have said no to.   Though it might seem to work just fine, it was an accident just waiting to happen.